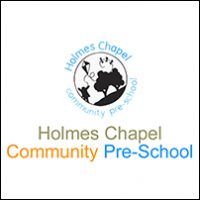 Holmes Chapel Pre-School
Middlewich Road
Holmes Chapel
Holmes Chapel Community Pre-School
We are very proud of our facility, conveniently located in the grounds of Holmes Chapel Primary School. Starting pre-school is an important milestone in your child's life and we offer a secure, happy and stimulating environment for play and learning.
Our qualified staff are experienced, dedicated and caring. They build strong relationships with children and their parents and carers. We support the learning carried out at home and encourage your involvement through regular communication about your child's progress. Our good quality educational and play equipment and revamped outdoor area enable children to develop to their full potential.
Above all, we aim to make your child's time here happy and fun-filled and to build the confidence and skills needed to make the move to primary school a smooth transition. Please arrange a visit and come and see for yourselves.