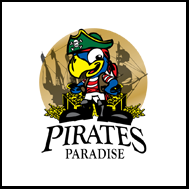 Pirates Paradise
Unit 8
Holmes Chapel Business Park
Manor Lane
Holmes Chapel
CW4 8AF
The Ultimate Indoor Childrens Play Centre
Pirates Paradise of Holmes Chapel has has been operating since 2007, the company strap line and ethos The ultimate indoor childrens play centre still rings true with the jolly crew at pirates. The play centre still prides itself with providing exquisite food befitting of any a good italian restaurant, Whilst also catering for the simpler childrens pallet expected of such an establishment, the quality of all food is never compromised and patrons often find themselves indulging in the culinary delights especially that from the Daily Specials and sweet menus.
The all important play equipment has also kept pace with the industry and is constantly upgraded to meet the expectations of the junior pirates by way of adding sports areas, swing ropes and a brand new toddler section for the under 3_s, safety is of paramount importance and we are pleased to announce that pirates paradise has this year achieved the covered ROSPA gold safety award.
The two spectacular themed party rooms provide the very best in childrens party from a simple Play & Grub to an all out VIP (Very Important Pirate) bash which is the envy of the seas.
Free Wifi, wonderful food and coffee allows our pirate guardians to relax and enjoy the experience as much as the youngsters who go off into a magical world, pirate or princess, the play centre is still the ultimate 5 years on.