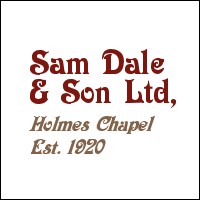 Sam Dale & Son
The Forge
12 Macclesfield Road
Holmes Chapel
Cheshire
CW4 7NG
Sam Dale & Son Ltd has been a long established family business for over 70 years.
Centered in the heart of the village with easy access and a large car park at the rear.
We offer a wide range of goods including:
Local School Uniforms
Beavers Uniforms
Cubs Wear
Scouts Uniforms
Rainbows Uniforms
Brownies Uniforms
Guides Uniforms
Children and Adult Clothing
Sportswear & Equipment
Footwear
Safety Wear
Electric Fencing
Calor Gas
Walking sticks
Nuts & Bolts
Agricultural Paint
Gates Furniture
Pipe Fitting
Hardware
Toys
Poultry Feed & Equipment
Detergents
Anti / Freeze
Tools
We also stock a wide range of garden tools, accessories, ironmongery and plumbing fittings.
We are also the local stockists of Calor Gas.
In stock we have a variety of chicken coups, rabbit hutches and dog kennels readily available or if you have a specific requirement we make to order.
We have all you could possibly need for ballet, tap & dance wear.
We have a fully stocked steel supply and can repair, weld & fabricate gates, railings, farm implements etc as required.